So. How is everyone doing?
It's been a while for the ol' blog and I, but there is something about being in the house for three weeks that makes you feel mildly homicidal like you should explore your creativity, so here we are. It's been months since I have occupied this space
We are living in the COVID19 era now, and if your home is anything like ours, you may be feeling a little unsettled. Out of nowhere, we went from our regularly scheduled programing to figuring out how to balance work, home life, online learning, social distancing, hand washing, grocery shopping, and the closure of so many of the things that we depend on in our day-to-day lives.
I mean, you guys. The coffee urns at Wawa are closed. This is basically a sign of the apocalypse. THE WAWA COFFEE IS CLOSED.
Wait. Let's breathe. There are so many things that are good. I've watched my son's amazing teachers create an online curriculum out of thin air to keep him learning and engaged, essentially letting us into their homes (their one area of respite from our precious kiddos) so PJ and all of our kids can attend class online, and feel connected to their peers and leaders. Facebook groups are teeming with volunteers, there to help our elderly neighbors, house-bound single parents, and first responders with whatever they need. Businesses have been outstanding, working hard to meet the needs of our community while the closures and social distance guidelines threaten to upend their livelihood. Even our kids, who are missing sports and playdates and family visits, are writing colorful chalk messages on the sidewalks to cheer up strolling neighbors. I ordered a pizza today, and my son was so excited to see a human that isn't me his head almost exploded.
This all shows that even when we can't be near each other (#socialdistancing) we can get be there for each other. There is so much scary out there. So much. It's not something to be downplayed or joked about or not taken seriously. Many of you know that my husband is an ER nurse, and he comes home from his shifts lately worried about what he's seeing, the stress levels of his coworkers, and his fears on what is yet to come. Even the weather was uncooperative this weekend, rainy and petulant. There have been moments when I did not think I could do this. In my day-to-day life I wear a lot of hats, but I usually wear them one at a time. Wearing them all at once is hard.
But...I have made it through two full week of distance learning and we're all okay. Perhaps I am better at being tested than I thought I was.
For now, I leave you with this thought from a blogging favorite: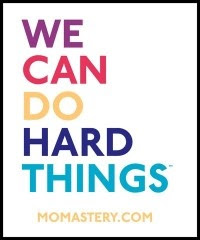 You got this, friends.