One! Two! Three! Four! Five! I'm alive!
Y'all remember that one? Anyway...
ONE:
It's Friday, but it felt like a Saturday because there was no school for PJ because it's
Spring Break!
I was so excited to spend the day with my boys. Today was the only day of PJ's vacation that we had to ourselves, between Pete's work schedule and our trip to Ocean City, MD next week. I even rescheduled a therapy visit from PJ's behavioral therapist because I wanted the day to be all. to. ourselves. But, a stream of texts from the staffing office at Pete's hospital, begging for help, cut our family day short. Pete decided to offer to help and to be honest, um, hello? Overtime pay?!?!?!?! We needz it. I was disappointed to cut our family day short, but happy that Pete was able to help out his very short-handed ER tonight.
TWO:
With Pete off to work, it was up to PJ's Jewish mama to dye eggs with him! PJ had a great time at the egg dying party his aunt and uncle hosted for all of the cousins, but it was too much noise/too many kids, and he couldn't focus enough to dye any eggs. But with a smaller crowd (him and I), he did much better, plopping eggs into dye and marvelling at the transformation ("Ooooooo...pink eggs!"). I forgot to bring my (ahemMarla's) camera in the kitchen, so I grabbed the iPad, and now I can't figure out how to get the pictures off of it. But trust me, the eggs are cute and PJ had a blast!
THREE:
To quote the esteemed
Kit De Luca
(if you have to ask who that is, just STOP READING MY BLOG!) "What, you want me to name someone? You want, like, a name? Oh,
God
, the pressure...of a name...". That angst, right there? Of trying to pinpoint a certain thing? That's how I am feeling about making a decision on where we are going to live next and what that means about PJ's schooling. Our perfect apartment in the perfect spot in town is becoming too small, too noisy. We also would like to have another child, which would be a very tight fit here. All of those decisions, coupled with choosing the best school system for PJ, is making my head spin.
FOUR:
In the past two weeks, I have become very lax in the exercise routine that I had been working so hard at since the new year began. Must fix. I wouldn't say that I have grown to enjoy exercise, but I had become committed to the routine of hitting the gym every day, and working out at home during the evenings. I am enjoying the change in my body even if I am not enjoying the process, so I need to push myself to get back on track.
FIVE:
If you haven't
read about it
already, we visited the Liberty Science Center and were given the opportunity to visit and review the new
Curious George: Let's Get Curious
exhibit! I am offering a lucky winner two tickets for admission to the LSC, so
please be sure to check out my post and enter!
:-)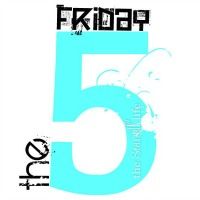 Swing on by and tell her hello for me!