1. It's Friday, so it's my day off from the gym. I have been alternately cleaning, checking Facebook, and watching the Today Show and noticed that NBC seems to feature Flo Rida a lot. What is that all about??
2. A long weekend plus a short school week means it's already the weekend again! Hooray! Being a SAHM with a husband who works hours that aren't M-F, 9 to 5 takes a bit of the edge off of the excitement of a weekend, but having a son in school puts it right back! I love looking forward to those two, blessed, non-rushed mornings at the beginning and end of every week!

Top pick: Ocean City, MD 1995
Bottom: Great Adventure 2012
 3. Tomorrow night I'll be meeting up with some of my best girls for dinner- two of my oldest friends! Life being what it is, we don't get the chance to spend time together as a threesome often enough. The last time we hung out, we met at Great Adventure and waited in line for so long, we only rode one ride! But we talked and were
present
, which was the main thing. Plus, we got a picture for posterity! :-)
4.
Steph
mentioning her new planner made me think about mine. I have very specific requirements when I buy a planner. It has to be pre-printed, none of that you-fill-in-the-date crap because I always mess it up! It has to have a monthly calendar
and
weekly planning, so I can both look at the month as a whole and have room to write the things I might need for each individual day. I also like to use multi-colored gel pens to write things down, it helps keep me organized if there's more then one activity in a day...and also because I have a total pen fetish. Anyway, the point of all of this is that I bought a school year planner, so I will need a new one at the end of June!
5. I broke down and bought new workout pants because out of the three I have been wearing, two pair are maternity yoga pants and one was a pair of Old Navy sweats that were so old they were disintegrating off of my body. I don't feel like the results of my working out warranted new clothes, but I also can't work out naked. So I went to Wal-Mart and bought two pair of swishie pants for less then $9 each. Maybe when I'm under 150lbs I'll decide I have earned something cute from Old Navy! In other news (or, non-news, if you know me at all), I am a fashion disaster.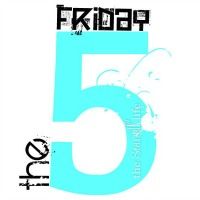 And this was my Friday 5! I linked up with sweet, southern
Joy
over at
The Sowell Life
! Stop by her beautiful blog and tell her I sent y'all by! :-)