There is another reason I haven't been blogging lately. It's also the reason my apartment is a mess, the laundry isn't done, and my time when PJ is napping or asleep for the night has been hijacked.
This is the reason: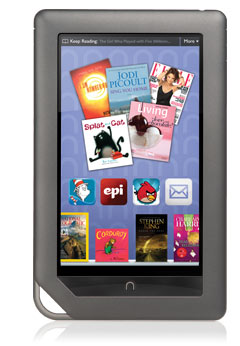 Pete and PJ gave me a Nook for Mother's Day! I had always been anti-Nook. I am an avid reader and for me, books are like air, like water, like food. I need books. My (very) large collection of books make me happy! They are all in amazing condition- we do not dog-ear pages, misplace dust covers, or use anything for a bookmark besides a slip of paper. I can walk around Barnes and Noble for hours perusing volumes. Nothing makes me happier then a stack of books. So how could I enjoy a little electronic tablet?
Turns out? I could. It took me all of about 6 seconds to start drinking that Kool-Aid! It's been in my hands pretty much every second PJ is in his crib! Since Mother's Day, I have read:
The Kid: What Happened When My Boyfriend and I Decided To Get Pregnant by Dan Savage

The entire Anne of Green Gables series (7 books) by Lucy Maud Montgomery

Bossypants by Tina Fey

Two Kisses for Maddy by Matt Logelin

My Fair Lazy by Jenn Lancaster
I have created a wishlist that would allow me to buy a book a week for the next four years before I completed it (you know, theoretically. If I had that kind of money to blow.). I can read in the dark. One afternoon, PJ snuggled next to me on the couch for a nap, and I could snuggle my sweet boy while I read with one hand! How awesome is that??? And if we ever travel, I can pretty much bring all of my books with me! On our honeymoon, I packed two books to read, and I finished one of them on the plane ride there. Now, I can just order a new book with the touch of a finger!
oohhhhhhhh, yeeeeeeah.
So, that's my new addiction. I've gone from a regular old book nerd to a tech nerd/book nerd. And I'm proud of it! :-)
Off to bed!
Goodnight!