It's Week 9 of the Breastfeeding Blog Hop
Tips For New Moms
**We've made it even easier to participate – check out the NEW guidelines listed below**
Hosts:
This Week's Guest Host:
Want to participate in this week's blog hop?
Here's what you need to do:
Find a post on your blog related to this week's topic - Tips For New Moms. You can write a new post, or use a past post.

Add the linky code (click below where it says "get code") to the bottom of your post. Then copy/paste these guidelines above the linky.

Link up your post. (Be sure to use the URL for your post, not your blog homepage). Have more than one post you want to add? Go ahead and link them all!
Optional:



Show your hosts some love – follow them on GFC. Leave a comment that you found them through the BFing Blog Hop so they can follow you back!




Check out some of the other blogs that linked up – the more blogs you follow (and comment on), the more followers you'll gain.




Grab the Breastfeeding Blog Hop button below and display it on your sidebar or in your post.
Each week a Guest Host will be chosen by Random.org from the participants in the previous week's blog hop.
This linky will be open two days - Thursday, 03/03 & Friday, 03/04.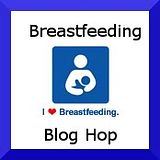 **********************************************************************************************************
Oh, those first few days of being a new mama!
It can be a wonderful, overwhelming, exciting, exhausting, powerful time- the first minutes, hours, and days of being a new mother! I didn't know until it happened to me how amazing the time would be. Getting to know my son wasn't always easy- I was tired, sore, and of course,
completely new at this!
All I wanted in the world was to measure up to the task of mothering this gorgeous new life my husband and I created! Rome wasn't built in a day, and neither were my parenting skills. My journey to parenthood is one that changes each day and evolved with each new challenge that I face. So although I am still learning, here are a few things I wish I had known in advance!
The hospital can be a difficult place to get to know your baby
The staff at the hospital I delivered PJ at was very good, but I still found it hard to get into a rhythm with my son. It seemed like every time I settled down to nurse, someone came to check my stitches, weigh my son, take blood (PJ had jaundice) or ask a question. I was encouraged to try nursing as often as possible, but rarely given a damn minute of peace to do so!. If this happens to you, don't be discouraged! Take what you can from the experience of being in the hospital (the nursing help, the support of a lactation consultant, the free diapers...) but don't get frustrated if you don't leave with a perfect breastfeeding routine in place. It takes patience and it takes practice and those are two things you will better cultivate in the comfort and quiet of your own home!
Pee is the Holy Grail of breastfeeding
No matter how many books you have read or classes you have taken, the fact remains that you and your child are new to each other, and the routines and techniques that you both create might be completely different to what you thought it would be. In my case, it was my flat nipples and getting PJ to latch on. His method of latching didn't seem right to me at all, but it didn't hurt me, he ate like a piggy, and at the end of the day I had a cute little pile of pee-filled diapers to show for my efforts! In those early days when the baby doesn't smile and certainly isn't able to vocalize a detailed list of his needs, pee output in your guide. If you see some pee, your milk's flowin' free!
Use your lifelines
Got a question? Feeling frustrated? Are you convinced your child is starving and that if you don't start spouting some goods soon you are going to start screaming until someone brings you some Enfamil and a whiskey sour? Whoa, there. Take a deep breath. Phone a friend. At a playgroup? Ask the audience. It's 2:26am? Hop online and find a chatroom. Were YOU breastfed yourself? Call your mom! Remember the first bit of advice? This takes practice. And along with that, be willing to ask for help along the way!
Foundation is key
Get a good nursing bra. Seriously. Your bra is going to get a lot of action now, even more then it did in your sluttiest of slutty phases, and in the same way you receive it from your friend, receive good support from your bra! It will save you money in the end, since you're less likely to have to replace a good nursing bra, and it will provide you with invaluable comfort for your Dinner Drops.
Establish your crutch
I'll just say it. Without my iPod, I might have lost my mind in those long, sleepless nights of nursing my son! Even at 3am, I could tuck my son to my breast with one arm and use the other to read perezhilton.com. It kept me awake, it kept me company if I decided t let my husband sleep, and it kept me connected. It might not be an iPod, but find something to spoil yourself with during the time when your world revolves around nursing.
Enjoy this time
Unlike anything else in the world- changing diapers, giving baths, reading stories and singing songs- breastfeeding is the only thing that you alone can do for your child. It's real, powerful, and wonderful, and even in the most frustrating of times, let yourself relax and remember that in this moment, it's just you and your baby.
And there you have it. Like I said, I am not an expert of parenting, but I do know what worked for my son and I. Even if you end up just laughing your head off at my stupidity, I hope laughing helped!